Dear friend of KISSed Quilts,
We have a winner as part of the Row by Row Experience - Summertime theme.
Congratulations Annette R. This is a two-sided quilt with great creativity applied. On the side with our row she created her own seed packets row below. So clever and the 'other' side is four horizontal rows and a vertical that all remind her of views at their cabin.
Here is our original collaboration of designs and my sunflower row in 3 different fabric kits -- Northcott Toscana, Moda Grunge and the batiks. The other shops kitted in mostly batiks. These are still available in limited quantity.
Free patterns are available until August 31 and kits will be available at the shop or for purchase online while supplies last.
Other shops are:
Lily - Quail Run Quilt Studio, Grand Coulee, WA
Daisy - Highland Quilts, Athena, OR
Bleeding Heart - Ed and Jean's Quilt Shop, Deer Park, WA
Find my listing here and on that page are links or appropriate information for purchasing the other 3 kits.
---
Kimberbell Day had over 16,000 people participating. Amazing! I know that some reading this participated and perhaps even saw my brief (canned video) appearance.
-- New Products:
Jar Topper and Gift Tag Designs --Previewed during Kimberbell Day
$44.98
Foldable Storage Box --ordering some of these myself!
$17.98
16 Slap Bands (They have added 3)...I can also just get the add-on 3
these are so handy!
$39.98 (add-on is $9.98)
Let me know by responding to this email if you are interested in these by Monday August 8, so that we can get the order in soon. The two days prior to Kimberbell Day we hosted the Virtual Winter Wonderland event. Thanks to those who participated and purchased additional product as those bonus snowmen designs are adorable!! Note: Winter Wonderland has been retired. I believe there may be one shop still planning to host, so their quantity of remaining kits are what is left. Some new products are already in the shop, so check them out here. If you'd like to add the above items to an order you place online, just make a note in the comments of your order.
---
Quilt 'til you Wilt - Odessa, WA -- we had a great time even if a bit warm. If you purchased some AnglePlay templates, a kit and pattern out at my vehicle with CASH--so I didn't get your name or contact information --I think I still owe you something, so please contact me!
City Shadows ---demo (left below)--TIP: Cut Block "C" first! This version uses the new collection from Northcott--Shimmer Paradise. I'm calling this quilt Jungle Shadows, but it is from my pattern City Shadows.
and some progress even since then on what I was working on:
These two coordinating quilt tops are Peace Park and Back Yard from a 2009 design that has just been waiting for the right opportunity. During our mini-retreat here in Grand Coulee this Spring, one day I just decided I needed a break from what I was working on and pulled this out of my cupboards. It is so cheery and vibrant --it changed my mood for the better (despite the heat!).
---
CLASS INTERESTS for FALL:
Taking names who might be interested in taking a Feathered Star class this Fall. No date set yet but an interest has been expressed so let's start identifying who would like to do this. It can be for a 12" block or as a medallion for the center of a quilt at whatever size you'd like or just one large block as the whole quilt.
Just reply to this email with your interest. Thanks!
Angle Play - the Basics - now scheduled at Fall Retreat (October 16-20, 2023)
$30 + retreat fee
Want to learn the basics of AnglePlay? I've designed several patterns and have kits available or maybe you just want to bring some scraps and make a few blocks to gain basic knowledge of how the template system works? This opens up a whole new world of design possibilities when you can effectively make half rectangle triangles. Let your interest be known by contacting me!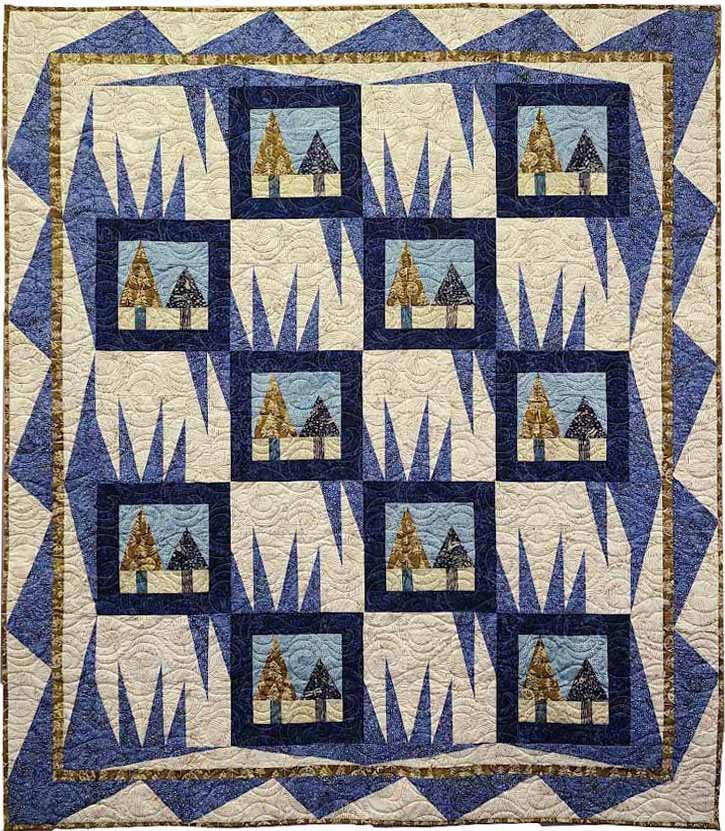 Want a formal class ? -- let me know what you'd like to learn and we'll organize it!
---
24 Karat Rondure was juried into AQS Des Moines, IA, September 27-30! If you'll be going --please let me know!
WSQ - Spokane Show - Entries due by August 6 - if I've quilted for you, please consider entering them in the show, too. https://wsqspokane.org/quilt-show-registration/ --just put my name as the quilter --you are the maker.
August 24-26 - Lincoln County Fair (entries due by August 22 or by 10am Aug 23) -- if I've quilted for you--please consider entering them in the fair. https://lincolncountywafair.com/the-fair/ - just put my name as the quilter --you are the maker.
NOTE: Volunteers needed Tuesday through Sunday for set-up, in-take, hang, help with judging, shifts during the fair and take down/pick-up. Contact June Jasman 509-771-5685 or jdjasman@live.com for details. Drawing for all volunteers that put in a shift or more (the more you do the more entries you receive) will be $50 Gift Card at your favorite quilt shop!
AUGUST - Sew-ins and Closures
If the weather shows a high at 90 F or less we can likely do a sew-in (we are very temperature driven right now). August 7 looks good so far (when I checked the projections a few days ago I would have said no, but now it looks like only a high of 81 and some rain --we'll take it!). If you want to stay in the loop for sew-ins this month, please RSVP.
I'll be closed August 11 through 15.
Your online orders are much appreciated! Please don't miss new products shared below.
New Products
The latest Country Register issue locally has part 3 of 3 for this pattern - Simple Dutch Windmill - that I designed. You might find it in other issues across the US and Canada. There are five sizes included and a variety of coloration options. If you missed a part or you'd just like to get the whole pattern now -- you can purchase it here.
Some new Kimberbell products arrived as part of the pop-up shop for Winter Wonderland. See what is still available in the Kimberbell section. See prospective new products above.
New Northcott fabrics arrived, some are re-stocks, but a couple of new fun prints too at great prices ranging from $7-$9/yd. We re-stocked the 14 piece FQ Bundles of Modern Love --so get them while you can!
Shimmer Coral Reef and SOLID WHITE (too hard to show) and Traffic Signs
I've added a new 'Manufacturer' within the Fabric By Manufacturer category -- Riley Blake. Please check out everything we've got there as I've opened a wholesale account with them and brought in 10 new 10" stack designs. These have some young and sophisticated styles so something for most! Themes include: Barbie, Hershey's (kisses and s'mores), Liberty Fabrics of London, Crayola, Thomas the Train, Breast Cancer Support and Mint For You (stamps, hearts, mint green and pink). Fabrics I've had in stock are listed there too, but now under this new category for an easy to find link.
OLFA now has a Magenta (NEW COLOR!) Ergnomic cutter pre-loaded with an Endurance Blade. I've brought in some more Endurance blades --isn't it time to put in a new blade? Find these on page 2 once you click through.
Now offering Black Hobbs Heirloom 80/20 108" wide on a roll. $12.10/yard. Why black? If you've got a quilt with a black background, this is a great batting to consider.
Which brings me to a question for each of you --are there styles/themes of fabric, notions, tools that I don't carry that you wish I did? Please let me know. As we prepare for the new space I'd like to be on the look out for new products that appeal to you!
Hope to see you soon! Thanks for reading.