Dear friend of KISSed Quilts,
Shop Hop Winners from April have been announced: If you didn't get selected, I hope you had a good time and will look forward to next year!
WINNERS OF WSQ Greater Spokane Area SHOP HOP: Grand Prize – Jeraldine Wenning ***
Lana Murry *** and Denise Ruddell *** = ***(Clients of mine) CONGRATULATIONS!!!!!
Joan Ruelhringer, Patty Anderson, Patty Ensign, Teresa Harris, Cathy Boysen, and Pat Patterson
Row by Row Experience - Summertime theme is well underway. Completed quilts that have at least 8 rows can now be turned in at participating shops. First quilt in to each participating shop will win 15 FQs of fabric and possibly a bonus if the quilt contains a row from that shop. Here you can see the four rows I designed that work well together. I'm also showing my sunflower row in 3 different fabric kits -- Northcott Toscana, Moda Grunge and the batiks. The other shops kitted in mostly batiks.
Free patterns are available until August 31 and kits will be available at the shop or for purchase online while supplies last.
Other shops are:
Lily - Quail Run Quilt Studio, Grand Coulee, WA
Daisy - Highland Quilts, Athena, OR
Bleeding Heart - Ed and Jean's Quilt Shop, Deer Park, WA
Find my listing here and on that page are links or appropriate information for purchasing the other 3 kits.
We had a great virtual Kimberbell Event --Summer Nights. Here are some visuals that I took or received.
If you're not familiar with Kimberbell, there is an opportunity to get in on one more retiring event - Winter Wonderland. It is a two-day event and we will do it virtually July 27 and 28. July 29th Kim (Kimberbell founder) will present several special things, including one project from this event. So, if you sign up with me for the regular 2-day event, save the project to do with her and you will still have an opportunity to get in on the bonus designs as well.
Projects - Techniques - Bonus designs---> SO CUTE (last pic)
Eligibility for bonus designs is additional $100 Kimberbell product purchase as part of the event. Contact me for more details.
---
JULY 10 - Quilt 'til you Wilt - Odessa, WA -- An Event of the Odessa Quilt Club. Details here. If you'd like me to personally deliver any orders ....just indicate this on the notes of your order. All orders must be placed by July 7 to guarantee Odessa delivery.
---
CLASS INTERESTS for FALL:
Taking names who might be interested in taking a Feathered Star class this Fall. No date set yet but an interest has been expressed so let's start identifying who would like to do this. It can be for a 12" block or as a medallion for the center of a quilt at whatever size you'd like or just one large block as the whole quilt.
Just reply to this email with your interest. Thanks!
Angle Play - the Basics
Want to learn the basics of AnglePlay? I've designed several patterns and have kits available or maybe you just want to bring some scraps and make a few blocks to gain basic knowledge of how the template system works? This opens up a whole new world of design possibilities when you can effectively make half rectangle triangles. Let your interest be known by contacting me!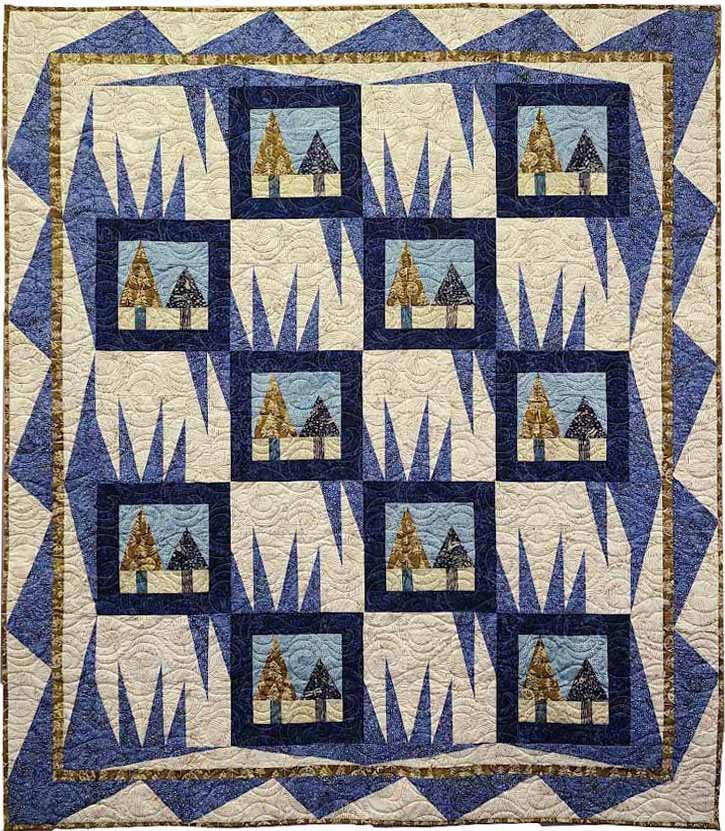 Want a formal class ? -- let me know what you'd like to learn and we'll organize it!
---
News in this last week -- 24 Karat Rondure was juried into AQS Grand Rapids, Michigan! If you'll be going --please let me know!
I'm generally around over this 4th of July....might be up the block working in the new shop space but happy to take your call and meet you whenever works best.
July 7 I'll be doing a run to Spokane to pick up my mother who is coming in for 2.5 weeks. We plan to do a sew-in sometime between the 11th and the 21st all helping Its My Very Own - Bags of Love -- a charity that she leads in Apache Junction, AZ. Please let me know when might work best for you if you'd like to be a part of this gathering. It may not last all day and might start early just to accommodate the air temperatures in the room that we use, but you can see some recently donated tops and now finished quilts, learn what size works best for them and see a short video about the organization.
Your online orders are much appreciated! Please don't miss new products outlined below.
New Products
The latest Country Register issue locally has part 2 of 3 for this pattern - Simple Dutch Windmill - that I designed. You might find it in other issues across the US and Canada. There are five sizes included and a variety of coloration options. If you'd just like to get the whole pattern now -- you can purchase it here.
Readerville yardage and pre-cuts.
Bookmarks could be fussy cut as sashing or border print, even a binding. The eye glasses are a great low volume and will work wonderful as a background fabric too.
Brought in new OESD Tea Towel Blanks (cream and white). Find all Tea Towels here.
Some new Kimberbell products arrived as part of the pop-up shop for Summer Nights. See what is still available in the Kimberbell section. Remember Kimberbell fabric, designs and supplies all count towards event bonus eligibility (not thread sets). I'll be placing another order soon--so please let me know of any items I need to order by July 10.
New Northcott fabrics arriving later this week, some are re-stocks, but a couple of new fun prints too. We re-stocked the 14 piece FQ Bundles of Modern Love --so get them while you can!
Hope to see you soon! Thanks for reading.