Dear friend of KISSed Quilts,
The best news came last month when I got the pathology report of the excised 'hard as a rock' sphere from my leg -- Angioleiomyoma --a very rare benign tumor with very little chance of recurrance. I've got such a better outlook on life now and the incision is healing nicely.
On the business front, we've been patiently waiting for the roofers to arrive to replace the roof on the bigger space we are renovating. We are getting closer to that reality. Weather may now hold us up for a bit, but I'm hopeful that we will not be waiting until Spring.
Do you have an embroidery machine? Are you catching the Demo December Days courtesy of Kimberbell and your local Kimberbell Certified Shop? You can come into the shop (KISSed Quilts) once a week starting now for three consecutive weeks to see a unique demo each time. Find out a special word and track it on this form. Return the form in person or electronically and I will provide you with this free design.
If you don't have the opportunity to come into the shop you can still watch it 'virtually' by finding them on my IG: marlene.kissedquilts and on FB:kissedquilts The first demo was posted on Dec 3. I'll post Demo Two sometime next weekend, and the third one the following weekend. You'll need to submit your form by Dec. 31 to get the design for free.
Big news: 24 Karat Rondure was juried into AQS Daytona Beach which is Feb 22-25, 2023. This is a joint project of Nancy Cargo and myself. For those familiar with my Rondure design, this is an Inverted or Reverse Rondure version. The pattern is now available as a PDF download.
Here we are in front of the quilt when we got to spend time together at Fall Quilt Retreat last October.
Heads up: Mark your calendar's for the Sew Expo in Puyallup, March 2-5, 2023. I'll be doing a lecture on the Fundamentals of AnglePlay and a trunkshow on Friday and Sunday afternoons. Hope you can make it a part of your plans to be there. Note: Their website is not yet updated for the new event.
Need to get some ornaments made or other holiday decor? I've got several patterns from Poorhouse Designs that work for this purpose! I've got holiday fabric too.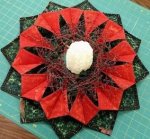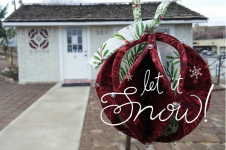 It definitely has snowed...but we've got a dry path coming into the shop from the upper side of the shop. It looks like there will be several days of snow starting on Thursday, so if local--stop in by Wednesday for easy access. Regardless, we'll try to keep the access going through the following 11 days of predicted snowing.
Want to join me for a Sew-in next Monday? Please RSVP.
I plan to generally be around all month, so let me know if you'd like to stop in. I look forward to seeing you or shipping a package to you soon!
Note: More patterns have been put into the Digital Download section.
A few products that have arrived include things to help you think about SPRING!
Sunflower Field 5" charms- happy to help you develop something to do with these, add background fabric, etc. The pattern Charmed Network starts with a set of these.
Bloom On! - a Fat Quarter collection - City Windows pattern starts with a FQ pack.
Garden Stroll - a Fat Quarter collection

Need some stocking stuffers?
Chalk Wheel and refills - This is one of my favorte chalking tools since the fabric doesn't get DRAGGED on while making the mark. Sometimes a pencil will drag and distort the fabric.
How about a case for all your USB sticks? Kimberbell has created this case. This is a perfect gift for your embroidery friend. Or how about make some Heartfelt Gift Pockets? I've got lots of felt colors to choose or make a cute Mug Rug. I've got several volumes of designs to choose from.
Lots of other goodies too, so please check out the website for all the treasures or stop in and tell me what you'd like to make.
See you soon! Thanks for reading.