Congratulations to Linda O. of Sagle, Idaho for winning our local prize during the WSQ Shop Hop! Thanks to all who came through during the event. If for some reason you were here and I forgot to give you your free gift --I apologize. I ended up with more than I expected, given the number of people who signed in. I think a few of you slipped in and out quickly and we didn't get an opportunity to chat and get through all of the pleasantries of your visit. I hope you'll make a point of coming again.
Did you visit the Odessa Spring Fling Quilt Show this past week? To my surprise while unpacking the quilts I displayed in the show ....I discovered that I received the Mayor's Choice Ribbon for Alletaire! How exciting! And look at that ribbon! So special. Thank you Odessa Quilt Club for hosting the show and to the mayor of Odessa for choosing my quilt. If you aren't familiar ...this is a Bonnie Hunter of Quiltville design and I added extra blocks to make it a king size. Due to the small piecing sizes it is a very heavy quilt.


Several new products have arrived in the shop...come check them out!
Due to space limitations, yardage for my newest kits are being stored off-site. Kits are in the shop and if you'd like extra yardage or especially want yardage from those particular kitted fabrics, please order from my website or realize we'll be making visit to another location a short distance away in order to cut the fabric. Thanks for understanding.

Sew-in: May 2, 9, 16 - pls RSVP
Closed May 17 (Tuesday) and 23-30
I'll be participating in an industry education event; attending a retreat in Idaho which will include a pop-up shop (If you're going to be at Camp MiVoden May 23-25 --you can shop via my website and select pick-up and add a note to bring to the retreat); and attending a family member's Medical School graduation in California.
I look forward to seeing you or shipping a package to you soon!
NEW WIDE BACKS
MODA: Grunge - Hits the Spot - Red; Grunge Onyx (black) ....and restocked the Cordite (grey).
NEW MODA: (link to all MODA) -- some fun new designs due to arrive next week!
Grunge Jelly Roll - 50 unique strips --available here only! $49.99
Here Now: Timber - a collection featuring the National Parks
And to go with it -- this book -- use this code BOOK20 only shared in this newsletter for 20% off this wonderful book during the month of May.
Beautiful new Elk and Wolf panels
Lots of new Island Batik Strip Sets. Check them out here!
Check out all the new Kimberbell designs and supplies. There are two pages of products now!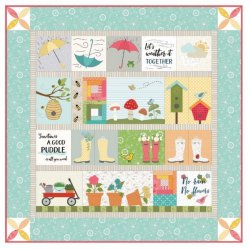 One Spring Showers kit left -- includes Design CD, Embellishments, Fabric for top and backing. $200 special for entire bundle - reply to this email to get the offer.
Good only while supplies last.
​​​​​​​New Books -- use code BOOK20 to receive 20% off these select books during May while supplies last:
The Inspired by Elvis book includes one of my own quilts!
Quilts of Valor includes 16 patterns and a 50 state quilt salute.
AnglePlay Templates, patterns and kits