Skip Navigation
Website Accessibility
2022 - 03 - Your lucky day!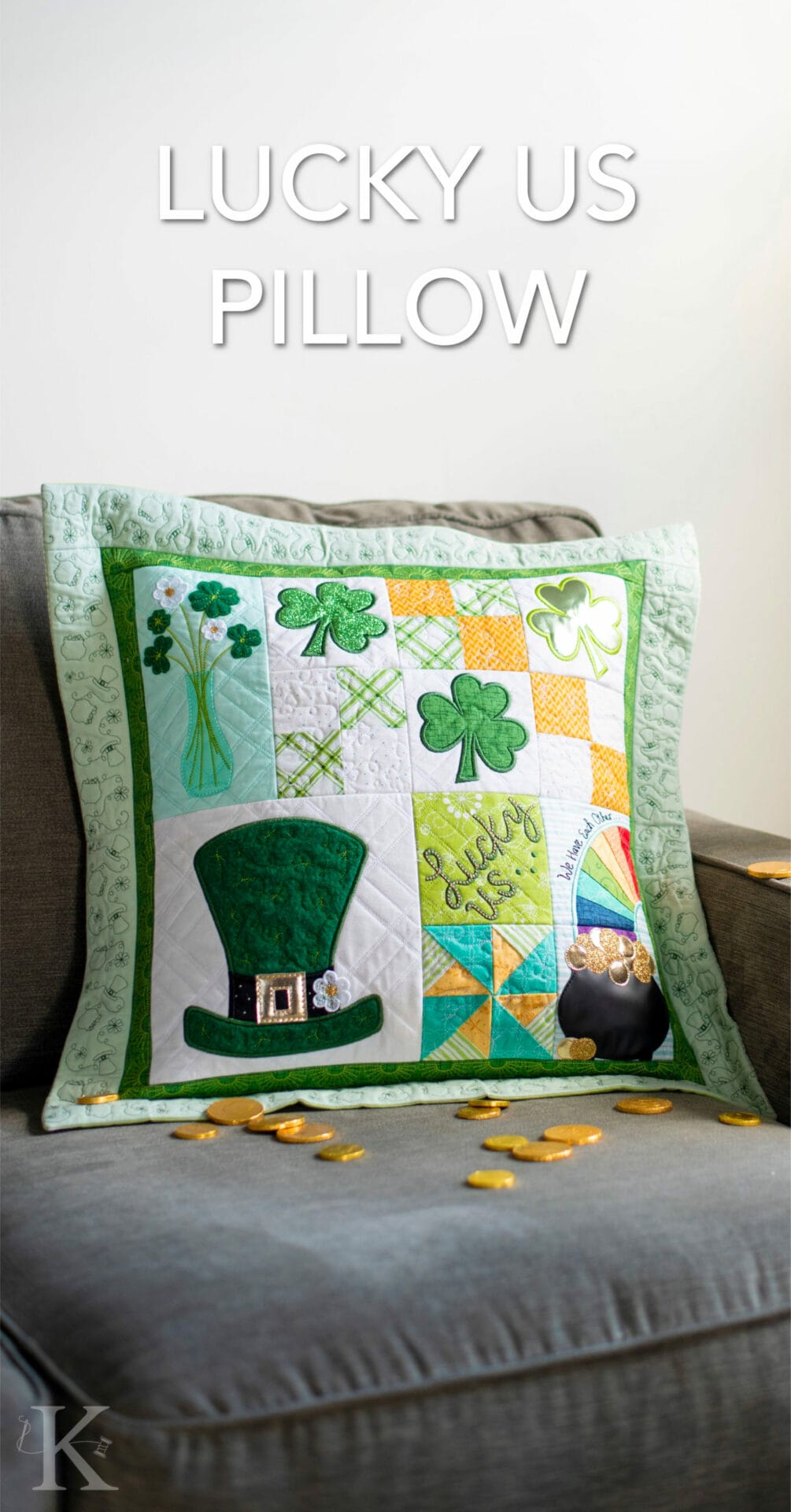 Look at this great Lucky Us pillow! If interested in it, please use our affiliate link to purchase directly from the Kimberbell vault.
Thank you for voting last month in the ByAnnie.com LQS contest.
We've got some great offers for you this month.
Aurifil thread pricing will go up April 1, so take advantage of some great prices this month.
Quilt 'til you Wilt in Odessa, WA will be happening on March 21. If you'd like me to deliver an order to the event, please order and choose 'pick-up' but indicate in the notes that you'd like it delivered to Quilt 'til you Wilt. Contact info@odessaquiltclub.com for details about the event.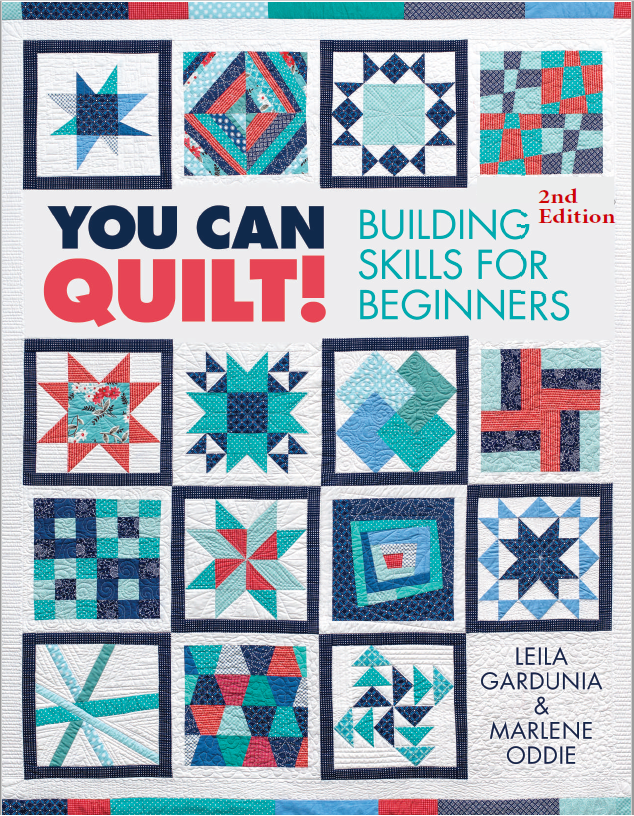 Remember I co-authored a book? You Can Quilt! Building Skills for Beginners was published by the American Quilter's Society and has sold out. They have left the 'publishing' business so my co-author, Leila, and I have purchased the rights. We corrected errors and modified some things we thought would work better presented differently and it is now available as a PDF download ($24.95) on my website or via print on demand at Amazon ($32).
If you've used the original or purchase this 2nd edition, please leave a review on Amazon. We'd be so grateful.
Several new products have arrived, including some of my own designs that now have kits available for purchase...see details below.

Sew-in: March 7, 14 and/or 28 - pls RSVP
Please mark your calendars for the WSQ Shop Hop happening April 21-23(4). Note I'm open Thursday and Friday 9am-6pm and available by appointments on Sunday. I am closed on Saturday. Want to be sure you get one of the new kits? Shop ahead of time, just indicate 'pick-up' in your order and in the notes say that you'll be by during the shop hop. If you've been to my shop you know I don't have a lot of space (we're working on that!) and it is likely I won't be moved prior to the event, so shopping early and having your cuts ready will help. So many new things have arrived that some are online and are being housed in my classroom -- so please consider ordering in advance. Thank you.
Thanks for reading and following along....hope you find lots of great products. I look forward to seeing you or shipping a package to you!
AURIFIL Price Increase starting April 1 - NEW PRICE $14.99/large spool
So take advantage of these prices while they last (limited to supply on hand):
Make your own case or signature cases - $125
Individual large Spools through March 31 - $13.35
Interested in purchasing over time ...$14.99 for an empty case plus 1 lg spool of white. Buy 9 more throughout the month for $13.35/spool and get the next 2 spools free to complete the case. If you've not purchased the remaining 9 before the end of March the new per spool price will apply, but you'll still get 'the last 2 spools' free.
I've got one signature case of each of these sets:
McKenna Ryan
Solstice
Full Bloom - 40 wt
80 wt - 20 small spools $97.14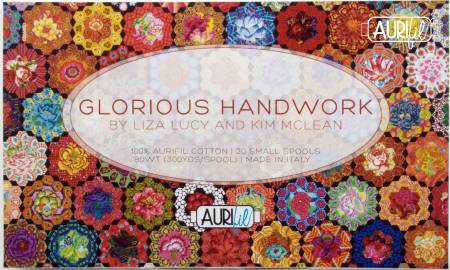 45 small spools - $260
50 wt Cone 6452 yds - $50 - several neutral colors available -- check picklist on listing
Color Builders - Blue and Purple have arrived. These sets are $43.70 each.
NEW KITS OF MY DESIGNS!!
So excited to share these with you. These fabrics were tied up in the ports for months.
Floral Flourish - Northcott Fabrics (Modern Love) (Sail Away - fabrics and patterns by Patti Carey of Patti's Patchwork - if you want a specific pattern kitted, just let me know)
Island Batik
Double Sparkle (Sail Away collection) and Midnight Garden (Midnight Dazzle collection)
Both of these are new AnglePlay(R) Designs and they use the Set One templates.
Lots of new Island Batik 2.5" Strip Packs and 10" Stacks - LINK TO ALL PRE-CUTS - includes two new Breast Cancer Awareness sets.
Need Sunflowers?
- All Prayers for Ukraine!
I've also brought in flames, diamond plate, a fun Seahawks coordinating plaid, wheat - all from Quilting Treasures.
NEW MODA:
Ombre Fairy Dust (Link to all Ombre's) - special kit using these fabrics will be available for the Shop Hop in April.
Astra Fat Quarters
Cultivate Kindness fabrics (link to all MODA)
Grunge Jelly Roll - 50 unique strips --available here only! $49.99

Check out all the new Kimberbell designs and supplies. There are two pages of products now! Spring Showers has arrived! Fabric Kit for Top and backing coming soon.
Anyone interested in doing the new No Place Like Home pillow? - It's a 2 day event.


Two beautiful new widebacks have arrived that go with two of our new collections. Check them all out!

Don't forget - Holly Berries and Dark Room kits still available! Given Shop Hop coming up, if you've been holding off, now is the time!