Skip Navigation
Website Accessibility
2021 - 08 - WSQ Shop Hop/Show and Lincoln County Fair - lots going on! Please join in!
Shop Hop - WSQ Spokane is hosting a shop hop and I'm a part of it! So excited to be back in a shop hop. Although we had hoped to have moved into the bigger space by this time, it will not happen by shop hop either, so please come and see us if you've never been to the smallest quilt shop by a dam site! :-) at 301 Main St. You'll then appreciate the new space even more! All those who come by during shop hop will get a special invitation to the Grand Opening when we move. If you'd like to order ahead for pickup during the shop hop, just place your order online and indicate 'pickup'. In the notes you can mention which day/time you'll be coming through.

August 12-15 ....note my opening times are: Thursday and Friday 10am-6pm. Closed Saturday. Available by appointments on Sunday.

Lincoln County Fair - August 26-28 in Davenport, WA. Registration deadline for Quilts is August 24, 8pm.

WSQ Show - October 15-17 - quilt registration deadline TODAY!
Please check out some new products that have arrived and are featured below.



Just Arrived:
Wide backs - Scroll motif from QT Fabrics in Lemon, Tangerine and Sable/Milk Chocolate.

White on Whites from QT Fabrics - Four new white on whites. Curly Cue, Dots, Stars, and Pinwheel Floral. You'll also find at the link a new 'sand' like fabric.




Recent arrivals:
Fusamat - if you like to do fusible applique --check out these new mats in two sizes
12" x 12" and 20" x 20" - both on special price, click through to each item to see the sale price.
Pin Head- Black w/white dots from Michael Miller

Solid Batik Colors from Island Batik

Aurifil thread - Liberty (variegated red/white/blue) 40 wt and Forty3 weight - great for your Quilts of Valor and other patriotic projects. Note --Forty3 is 3ply on a big cone - great for machine long-arming.

Quick Press Seam Roller and Quilter's Select Rulers in various sizes.

EVENTS - Quilter's Trek is happening! - August is the last month for free patterns.
If you missed ordering Set 3 for use with the Quilter's Trek block designs from KISSed Quilts, Highland Quilts and Quail Run --get your set now! Yes--that's right, I got to design 3 blocks this year for the event and they all use the same template set! They would look great together or made up multiple times into their own quilt. Lots of options on how you might set them besides as a 4-patch, but also horizontal or vertical rows or flipping their orientation too. The AnglePlay engineered templates make the construction, of two half-rectangle triangles to make a rectangle, easy! Remember - kits for these can be ordered online or via phone from their respective shops.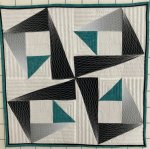 All 3 combined: Different colors repeated 6 times of HQs

KISSed Quilts set as a pinwheel without center extra.
Long horizontal versions of KISSed Quilts (left, center) and Highland Quilts (right)



So many possibilities!