We're making progress on renovations of the new space, but still taking out elements that we won't need. This heat has slowed things, but we're still excited about the possibilities ahead. Here we are at the key handover but with a bit more context of the building on Main Street. I'm still re-designing the front of the building, so stay tuned for that reveal!







A bit of history from around town tells us this building was built in 1938 as a Pharmacy and had a Soda Fountain. So, the photos above of these interesting things, including old syrup bottles and an ice cream maker (even has the paddle in it), seem to make sense. If you have interest in these or know of anyone who might be, let me know! I believe there are 21 bottles that we found under the stairwell with at least two vintages of CocaCola, Mavis Cola, R&H Choc-lo and Fruit Red Color, and Lyons Magnus Root Beer.

Mean-time ....I'm still open for business--Appointments preferred.

Fall Retreat has 15 signed up...so we're full ....if you want to be on the wait list, let me know. Payments due August 1.



U.S. Tour of all 50 states is still happening. Direct links for all blocks released to date have been updated on my original announcement blog post. Are you making these? I've added a visual link, so check them all out.

We're up to week 49 already ...still time to collect them all before the tour ends.

Washington has opened up, yeah!! Appointments are still welcomed and ordering online for curbside pickup or shipping continues as needed. Orders totalling $75 or more ship free.

Last month I spent a lot of time in the new space working with my husband and a young adult who was helping us. That effort is over so my days will mostly be in the current shop but will work some Fridays and Sundays in the new space to finish up the 'removal' and start putting back in a way that will work for the quilt shop and classroom. At times I may be in town but just running errands, so please don't hesitate to call and make an appointment to insure we connect. Thanks so much for all the orders that have been coming in online and for appointments made for those coming from a distance.

July Special Closures: July 13.

Please check out some new products that have arrived, featured below, and a special discount code you can use this month.



Just Arrived:
Fusamat - if you like to do fusible applique --check out these new mats in two sizes
12" x 12" and 20" x 20" - both on special this week Click through to each item to see the sale price.
Pin Dot and Pin Head from Michael Miller

Solid Batik Colors from Island Batik

Aurifil thread - Liberty (variegated red/white/blue) 40 wt and Forty3 weight - great for your Quilts of Valor and other patriotic projects. Note --Forty3 is 3ply on a big cone - great for machine long-arming.

Quick Press Seam Roller and Quilter's Select Rulers in various sizes.

EVENTS - Quilter's Trek is happening!
AnglePlay - Restocked Set 1 and Set 3. Added Sets 1-4 combined as a special deal at $79. One 'mini' set available too! If you missed ordering Set 3 for use with the Quilter's Trek block designs from KISSed Quilts, Highland Quilts and Quail Run --get your set now! Yes--that's right, I got to design 3 blocks this year for the event and they all use the same template set! They would look great together or made up multiple times into their own quilt. Lots of options on how you might set them besides as a 4-patch, but also horizontal or vertical rows or flipping their orientation too. The AnglePlay engineered templates make the construction, of two half-rectangle triangles to make a rectangle, easy! Remember - kits for these can be ordered online or via phone from their respective shops.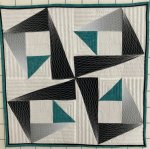 For readers of this newsletter - please use JULY12 for a Christmas in July sale. Minimum purchase $21 gets a 20% discount on all 'Seasonal Category' fabrics.

August - Plan now .....The Spokane Area Shop Hop is August 12-15. I'll be open August 12 and 13 (10am-6pm) and 15 (by appointment). Closed on the 14th, so please plan accordingly. If you'd like to order ahead for pickup during the shop, just place your order online and indicate 'pickup'. In the notes you can mention which day/time you'll be coming through. We're hoping to be in the new space by then, but we'll just have to see how everything comes together.