Skip Navigation
Website Accessibility
2020 - 09 - Lots happening online - don't miss out!
News & Updates

Lots of online events are happening that I want to be sure you are knowledgeable about. I've detailed them in my blog, so please check out that post.




I completed my AnglePlay Certified Instructor course and am putting the finishing touches on samples and class concepts. I would like to offer these online this winter, so look for details coming soon! Do you have Angle Play Templates?




We're still in Phase 2 here in Grant County, so given the size of the shop, please knock and I'll open the door if there is not already a customer inside. If you are able to wear a mask, please do so. Appointments are still welcomed and ordering online for curbside pickup or shipping continues. Need to make a fresh supply of masks? 1/4" black elastic and 1/8" black and 1/8" white elastic is available by the yard. There is also 60" Pellon 911FF non-woven interfacing available. All of these can easily be shipped as well. Black Magic and Northcott's Double Dipped Black have both been re-stocked. Remember $75 or more orders ship free.

September hours - generally 11am - 4pm or by appointment. I am back to quilting, so am typically there earlier and later.
NOTE THIS MONTH: CLOSED FRIDAY AND SATURDAY

Did you catch the We Are One World Quilt video produced by the Mancuso Quilt Festival? I posted the link at www.facebook.com/kissedquilts. Honored that my Rosie's BOMB quilt was included!
Winners here for Quilters Trek were Annette Ross and her sister Bev Baker! Congratulations! Annette (left) has our block in the middle of her quilt and it represents a state by state trek with several tokens included and other icons added to the block. Exactly how I hoped the block would be used! Both quilts are fabulous ...and it was Bev's first!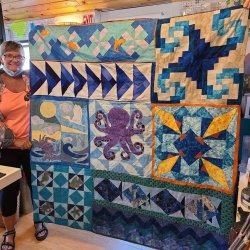 Kits with a token are still available--including surprise golden tokens!
Get some sunshine, wash your hands and make healthy choices everyday. Be well!

WHAT's NEW?
Restock of In the Beginning's Garden of Dreams Border print....2.5" strips and pattern inspiration also available.

Seahawks Licensed Prints are back with several coordinates.


I
'd rather join you via skype/FBVideo/Zoom!
Want a class? I'm preparing to do them via Zoom
- so let me know what you'd like to learn -- a specific skill or a specific project and we'll put something together. This means you don't have to be local to take one of my classes!
Marlene Oddie | KISSed Quilts | 509.386.5715 |
marlene@kissedquilts.com
| kissedquilts.com