Skip Navigation
Website Accessibility
2020 - 08 - Staying well?
News & Updates

Back to Quilting - but still in Phase 2

Given the size of the shop, please knock and I'll open the door if there is not already a customer inside. If you are able to wear a mask, please do so. Appointments are still welcomed and ordering online for curbside pickup or shipping continues. Thank you so much to all the new interest in goods from my shop. 1/4" black, 1/8" black and white elastic is available by the yard. There is still 60" Pellon 911FF non-woven interfacing available. All of these can easily be shipped as well. Black Magic (solid black fabric) is in stock. Remember $75 or more orders ship free.

August hours - generally 11am - 4pm or by appointment. I am back to quilting, so am typically there earlier and later.

NOTE: Limited Availability Aug 17-21 - I'll be in a certified instructor course via zoom from my home. Shipping will still occur daily as needed, but I will only be available after 4pm on a local basis by appointment.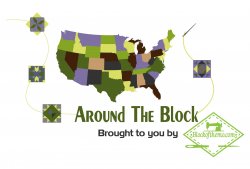 Today starts a new weekly Quilting Around the Block - US Tour -- organized by Blockofthemo.com. My block for the state of Washington will be revealed Week 3. I'm also planning on doing one in November for North Dakota --stick around to find out why!

Get all the details here for each 6" block and sign up for weekly notifications. Facebook group
#quiltingaroundtheblock



I'm participating on August 4 at 2pm Pacific Time in the next edition of Designer tips and techniques. This will be live on Facebook at www.facebook.com/kissedquilts. #designertipsshow
Let me know if there is something you'd like me to discuss.


Mancuso August Online Quilt Festival - August 12 – 15, 2020 (i.e. the World Quilt New England - Mancusco Show) -- My Rosie's BOMB quilt is to be included with a video they are compiling as part of the We Are One World Quilt. Be on the look out for it and let me know if you see it.

Quilters Trek is going well. Still opportunities to get kits and turn in quilts for prizes.



This year's theme - True Blue and kits are available online now. My design -- Treasure Map. Sufficient fabric in kit of accent squares to create all sorts of combinations. This could be laid out as a row horizontally or vertically or like shown in a square, but the orientation of each block could also create many variations. The first 79 kits will contain a token ...either a Washington State theme of which there are 7 unique ones to collect or a 'golden' token. This sample shows the state map token on the bottom, right of center.
Get some sunshine, wash your hands and make healthy choices everyday. Be well!

| | |
| --- | --- |
| | |
WHAT's NEW?
The latest edition of the Country Register is now in the shop.

Some of the new products include several colors of Fossil Fern - available for just $7/yd. Type in 'fossil' at the website 'search' bar to see them all.

Several Patriotic panels have arrived - check them out under 'fabric - by theme - seasonal' or 'fabric - by theme - panel' for all the panels that came in.

Have you made plenty of masks? Still need some batik liners? Check out the 'fabric - by type - batik' for some great deals.

Even some new border prints.


Take a minute to look online or stop in and check it all out!
I
'd rather join you via skype/FBVideo/Zoom!
Want a class? I'm preparing to do them via Zoom
- so let me know what you'd like to learn -- a specific skill or a specific project and we'll put something together. This means you don't have to be local to take one of my classes!
Marlene Oddie | KISSed Quilts | 509.386.5715 |
marlene@kissedquilts.com
| kissedquilts.com